Bronzer Roundup - N.Y.C. Sun 2 Sun Bronzer Terracotta Tan
Posted by : Glam Shack
Monday, February 28, 2011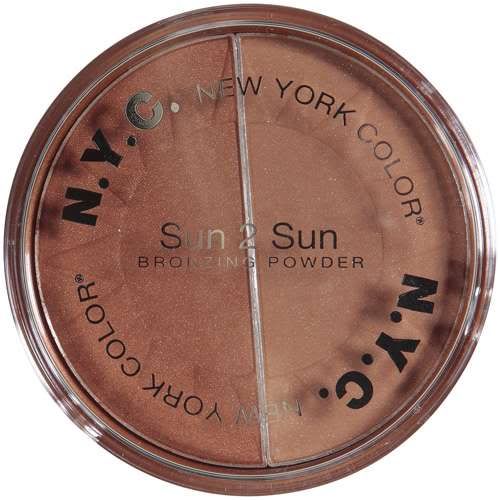 Get beautiful bronze radiance instantly. Two shades color and contour skin with a healthy sun-kissed glow.
Terracotta Tan 719A
Powder
Oil control
Fragrance free
Review:
I read a lot reviews on this product before purchasing it. I saw videos from Youtube gurus praising this product and that is why I am suprised that it's not one of my favorite bronzers. This is supposed to be one of the best bronzer on the market; I did not find that to be the case. I am guessing that there are people that perfer a red based bronzer, I am not one of them. This bronzer has a lot of red in it and I can't imagine how you could wear this as a bronzer and red or pink blush without looking like Bozo the clown. I really just don't get it. Maybe you guys can tell me what I am missing with the red based bronzers. For me, this is a blush, not a bronzer. The hiligher that comes with it is pretty nice.
Conclusion
:
If you like red based bronzer then try this. The shimmer in this product is not over whelming at all. As a blush, it's beautiful and the reason why I have a few backups.